Camino del Cobre
The Camino is still in its early phase of development. In the future it will extend from the northern barrancas with their scenic waterfalls, along the canyon rims, and ultimately to the deep canyons and the intensely Tarahumara culture of the south. At this time, however, the Camino is focused in the tourist center of Creel.
The principal station on the famous Chihuahua Pacific ("Chepe") railroad line through the Copper Canyon region, Creel is in the middle of the entire Barrancas del Cobre area. It offers good access to explore both north and south from the rim to the High Country. It has well-developed facilities and experienced individuals to provide outstanding recreation in biking, horseback riding, adventuring, hiking, 4 wheelers, and guided touring. For this reason the initial section of the Camino starts in Creel with the final destination of the famous vistas of Divisadero. In later years additional sections will be gradually added to the Camino to complete its long-distance vision.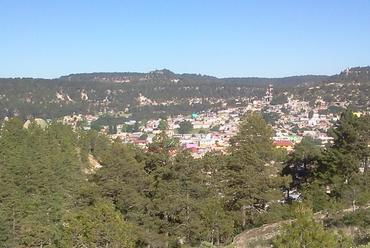 Creel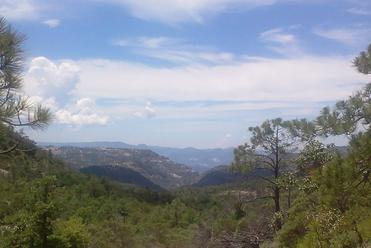 Barrancas: Vista
2015 - 16: From Creel toward Divisadero
The Camino is intended to be enjoyed in many ways. Some visitors may want to undertake a single long continuous effort while others may prefer to experience it by means of a series of smaller excursions. As of 2015 the initial parts begin in Creel and extend toward the rim vistas of ​Divisadero in segments of varying lengths, depending on the hiker's preference and ability. The first segments go 25 kilometers via the trail (20 kilometers via the Creel-Divisadero highway) toward the barrancas near Divisadero. With a number of convenient places to stop and return to Creel by vehicle (or the Chepe train), the trail offers a good opportunity to enjoy the High Country pine forest with views of the distant barrancas.
More information about the Copper Canyon region and hiking the Camino itself is provided in the Region/Route, Logistics and Guide sections. Click to learn more.